Click Here for Copy of Fan Guide
Thomas ARCA Stats Racing Reference

Tommy Praytor Bio

Racing for
Ronald McDonald House

Sponsors
Crew
Showcar
Media
2005 Hawaiian International Billfish Tournament

Thomas Praytor
News & Photo's
2021 Photo Gallery
2020 Photo Gallery
2019 Photo Gallery
2018 Photo Gallery
2017 Photo Gallery
2016 Photo Gallery
2015 Photo Gallery
2014 Photo Gallery
2013 Photo Gallery
2012 Photo Gallery
2011 Photo Gallery
2010 Photo Gallery
2009 Photo Gallery
2008 Photo Gallery
2007 Photo Gallery
2006 Photo Gallery
2005 Photo Gallery
2004 Photo Gallery
2003 Photo Gallery
2001& 2002 Photo
2000 Photo Gallery
1999 Photo Gallery
Tommy Praytor Photo's
2012 Photo Gallery
2011 Photo Gallery
2009 Photo Gallery
2008 Photo Gallery
2007 Photo Gallery
2006 Photo Gallery
2005 Photo Gallery
2004 Photo Gallery
2003 Photo Gallery
2002 Photo Gallery
2001 Photo Gallery
2000 Photo Gallery
1999 Photo Gallery
1998 Photo Gallery

Cup Sponsorship

Tribute Pages
Jamie C. Praytor
H.T. "Tommy" Praytor
Gene Tapia
Links to Alabama Tracks
Montgomery Speedway
South Ala Speedway (Opp)
Mobile Intl Speedway
Pensacola Speedway
Sunny South Raceway
2008



TOMMY BACK TO THE BOOTH AT DEGA
In a surprising move, WTDR FM Thunder 92.7 invited Tommy back to the broadcast booth this weekend at Talladega for ARCA ReMax Series race on Friday afternoon. This year Tommy will share the booth with Thunder 92s Jim Jacobs and NASCAR Craftsman Truck Series Driver Rick Crawford. Broadcast will start at 4:00 PM and can be heard on Thunder's web site http://www.wtdrthunder.com. Tommy on going back to the booth at Talladega, "This deal is really a continuation of younger guys like me, trying to help the older racers like Rick (Crawford) out. I came back to racing on Labor Day at Mobile to help build a crowd for him and now I'm going to help him get his feet wet in broadcasting. All kidding aside I'm pumped they're asking me back. I've done a lot of broadcast for radio and TV but Talladega is special. Add to that to have
Rick in the booth for his first turn in broadcasting is pretty cool."

GRUMPY OLD MAN DIVISION
GETTING BIGGER, OLDER AND GRUMPIER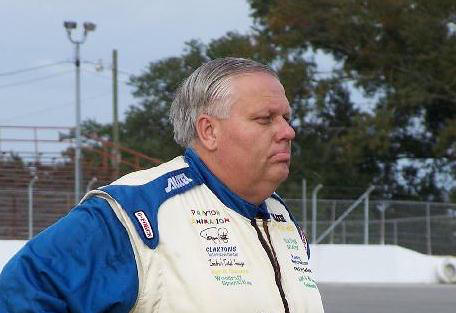 8-20-08: The Super Stock Division has become Mobile International Speedway's version of the Senior Tour or as some people like to call it the Grumpy Old Man Division. Howard Langham at 41 leads the top 4 of the geriatric set at MIS with fellow Grumpy Old Men James Alonzo, Shannon Jackson and Jimbo Devitt rounding out the top of the points standings. On August 30th the Super Stocks are getting grumpier, older and bigger with the return of Tommy "Fatboy" Praytor. After taking a 2 and half year hiatus while the Moose drove the Max Force Racing machines Tommy is returning to action on Labor Day weekend. The team spent the last 4 weeks readjusting the interior of the car for Fatboy's return (Readjusting is a nice way of saying making room for Tommy's seat that is significantly larger than Thomas's).
At 47, with a 48th birthday looming on September 1, Tommy will become the senior member of the Senior Tour. "I looked it up and an over 40 fat guy has won almost every super stock race at MIS the last 2 years, I fit those requirements perfectly," said Praytor.
Over the years race fans are used to seeing Tommy in his blue and white #28 Alltel racecar. For the first time in his racing career Tommy will not be driving the number 28 but the #6. Tommy will race the paint scheme unchanged from the filming of Final Destination 4. "Stuntman Buddy Joe Hooker drove this car filming the movie and we thought it would be cool for the fans to get a sneak preview of what they will see when the movie comes out next year. Plus I've done almost all the stunts he did for the movie during my career, of course I wasn't trying to do a stunt at the time I did them."
Labor Day weekend at MIS is huge (with Tommy racing it just got huger), The Moose will be in action with the Fausak Tire Pro-Late Models, Comp Cam Sportsman, the Bob's Speed Shop Bombers and the Super Stocks plus a fireworks show and an autograph session with Mobile's All American Cultural Icon, Rick Crawford. "I had several reason for picking Labor Day weekend to return to racing. First, I felt like if the fans knew I was going to race, it would help boost attendance for the Crawford autograph deal. It's important for us younger guys to help the older racers out if we can. Second, it's all about fireworks, every time MIS has fireworks I win a race."
Testing is planned over the next 2 weeks combined with a strict conditioning program consisting of fried chicken, sweet tea and oreos.