PENSACOLA
Sorry, we were short handed in Pensacola early and then when forgot to get the camera out, so we don't have any pictures. We took a good race car from Mobile that was a piece of junk in Pensacola. I think Brendan changed our tire set up and sway bar 8-10 times before we finally found a set up that worked. The real problem was, I used up all of my drawing power for Mark Davis the last time we were there and I drew dead last. We started 35 or 36 (last) and thanks to Brian & Brendan spotting me through traffic and wrecks we finished 11th. We had a great run and didn't tear the car up so we'll be ready for the finale in Mobile this week. Our teammate Zondra Yarber had a short, long night. She drew a spot on the pole, got a good jump on the start and then got shoved into the wall by the 3 car before they made a lap. It knocked the right front wheel out and she was done for the night, it was really too bad because she had a good car.
LAST POINTS NIGHT AT MOBILE

After spending a weekend with the Winston Cup guys in Bristol we were ready for a little short track action of our own. We'd made some big changes to the car going into Saturday night and had a productive practice session during the week. With a little help from Ricky Craven on how to test a car we made some big improvements and posted our fastest qualifying time ever! With a horrible starting spot in the heat we used the heat to continue to work on the set up for longer runs and get ready for the feature. The green flag dropped on the feature and our car was so good I nearly took the rear end off Mike Maddox in turn 1, I crushed the nose and ended up spinning car to keep from wrecking Mike. On the restart I gave Mike a little more room and there was a big wreck in front of us that ended up with Fountain Orso's rear bumper in my radiator and we were done for the night. Eventhough we had a short night we made some big improvements and are looking forward to Pensacola.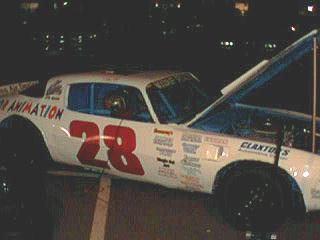 The best car I've ever had.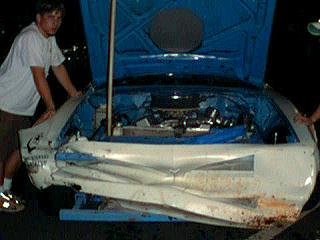 Of couurse it didn't take me long to screw it up.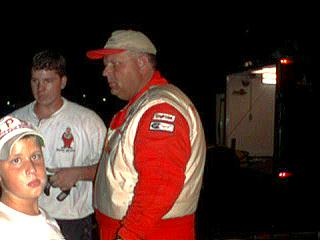 That's me trying to explain to the crew why I screwed their car up.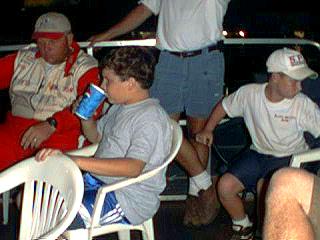 Some of the crew taking a dinner break and watching late model qualifying.
I couldn't resist this when I saw the pictures

Monkey see..........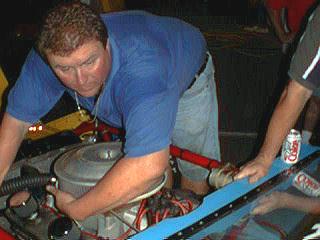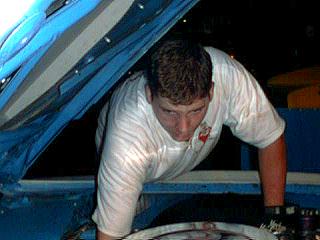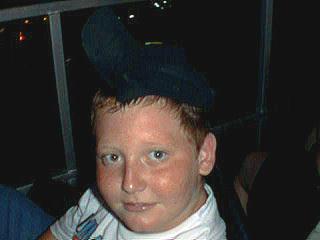 One of Thomas's go cart buddies Michael Hazard stopped by the track with us Saturday night.
BACK IN MOBILE
It seemed like it had been months since we raced in Mobile. Either rain, go carts or travel had kept us away from MIS. While we were back the night belonged to Zondra Yarber and her team with their return to racing. She looked better than I did, on the track that is, but we did manage a top 5 and a top 10 in the feature to keep that streak alive. We made some changes to the car to try and loosen it up and went a little too far. I didn't have enough dirt track experience to handle the new feel. As usual, my guys did a great job on the car and we'll be even better next time.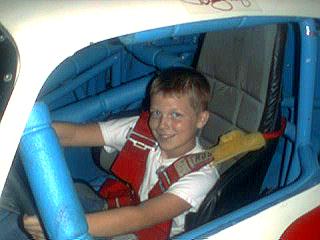 The go carts had a night off and I had real driver Anthony Claxton sit behind the wheel.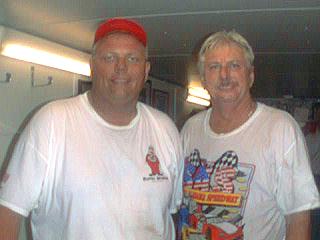 Two of the biggest trouble makers at the track, me and Roy Harrison.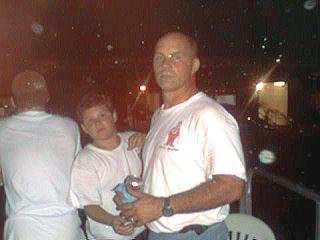 Ward and his son Evan, their first night at the track since Ward & Tinker had their baby son Dillon.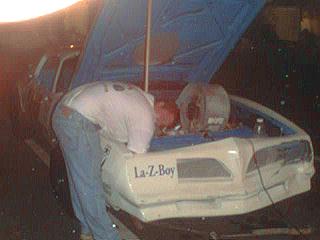 Brendan at work under the hood. We had a rough set up night and we chased the car all night.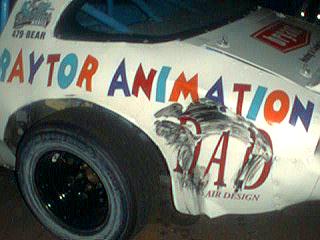 We picked up a few bumps and bruises but nothing major. This wheel mark was actually my fault, I came down on top of Freddie Tanner on the start.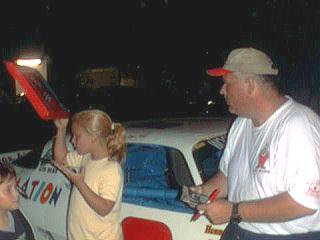 The toughest part of not being at the track every week is the kids after the races. They always crack me up even when we've had bad night.
PENSACOLA SUMMER SHOOTOUT
After the Bay Bears show we reloaded for racing at Pensacola. We normally have a pretty good car at 5 Flags and I screw it up before we get a chance to really get going. Several Mobile Pure Stocks made the trip and I think we either finished in the top 5 or broke. The trip was suppose to be fun and it didn't take long before we were causing trouble. We didn't qualify so we had to draw for position, Mark Davis and I drew for each other, I drew him outside pole and I'm still trying to count the number of rows back he drew for me. Our car was slipping and sliding during the first round of practice and Dr. Steven Davis started working on a new set of Goodyear's for us. The last practice had the car sticking better and we made some more changes for the feature. Once we got the first lap in the feature, we made a long green flag run and our car really started to come to us and we started picking up spots. Brian and Brendan worked hard on the radios to keep me out of trouble on the track and to find the fastest way around. With 10 to go we had moved all the way up to 5th or 6th and the power steering went out on the car. At least thats what I noticed first, we had broken the water pump pulley and our night was done. Mark went on to win the race from my starting spot and James Alonzo & Little Man Baezel from Mobile both finished in the top 5. Look for pics from mandatory testing for all GM cars at Indianapolis Motor Speedway early in the week.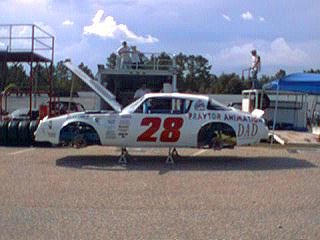 Our car waiting for a fresh set of Goodyears from the tire doctor,
Dr. Steven.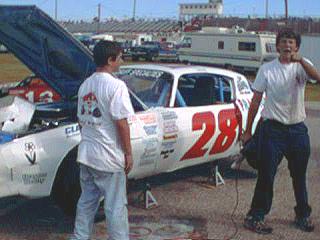 Ross & Josh worked hard to get the car going all day, needless to say they were dragging by the time we got back to Mobile.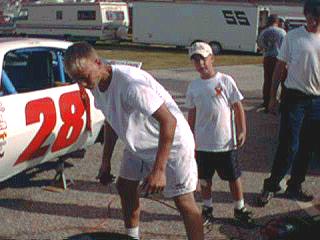 Dr. Steven at work I hope Thomas
was paying attention.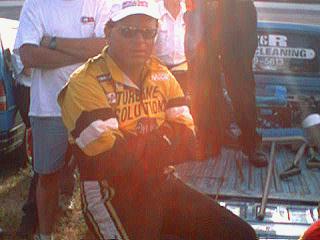 NASCAR's Rich Bickle showed up for his shot at the $100,000 pay day in December and won the race.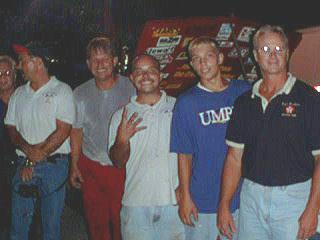 Mark Davis and his crew after picking up the win,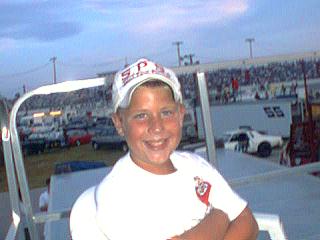 Why is he smiling? He knows he's
racing the next night and I'm
going to have to be working for
him.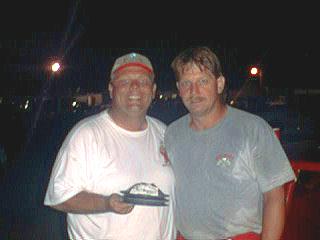 Mark and I with a little trophy we made for him out of the broken pulley out of our car. Some how it made it back into our trailer before the night was over,
he'll see it again.
BAY BEAR'S RACE NIGHT

One of our sponsors, the Mobile Bay Bears, held a special race night promotion at Hank Aaron Stadium featuring local race cars and teams. We had a great group of cars and I think the baseball fans were introduced to a lot of racing that they didn't know existed in our area. I want to thank all of the drivers and teams that participated, they really put on a great show. A lot of folks help make this thing happened but a special thanks to Tom Claxton for helping put together the cars and coordinate the teams as they arrived. I also want to thank Angelo with the Bay bears for his help and Bill Roth. Thanks again everybody and I hope you enjoy the pics we took at the stadium.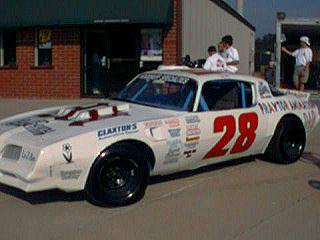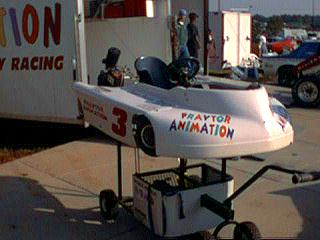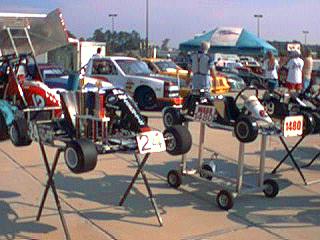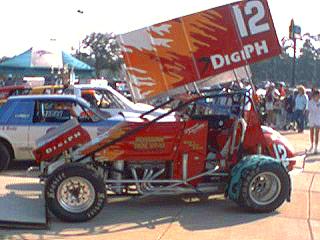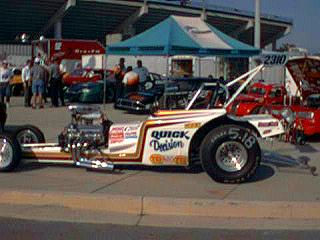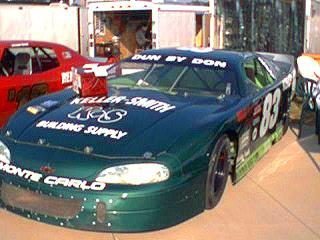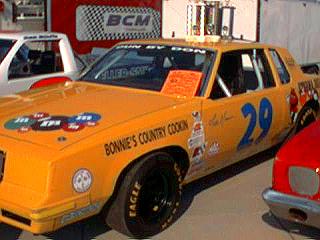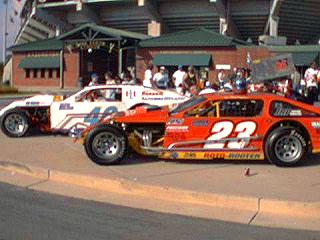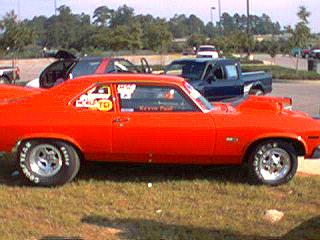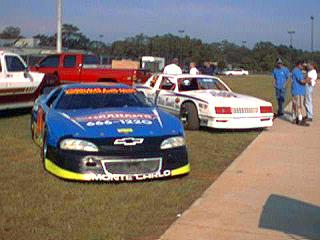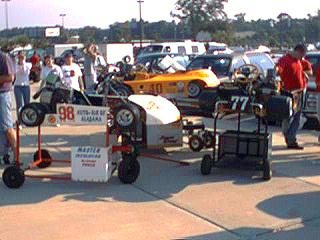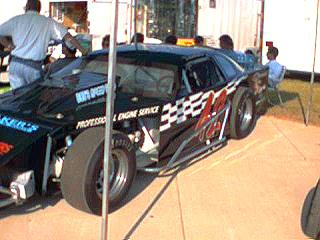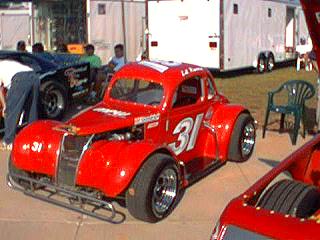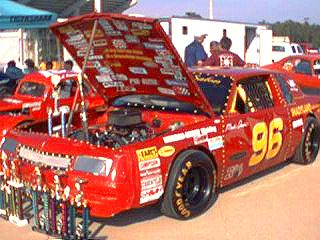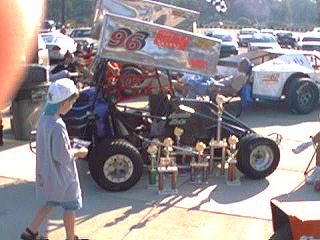 PAST RACE RECAPS
July 3rd, We took a pretty good car to the track and qualified with our best time ever without hitting anything at 21.49. The time put us starting 15th in the feature and 3rd in the heat race. The heat race was one of the best times I've ever had in a race car while racing with Mike Woodson, Big 90 (It was his first night back this year) and Martin Robinson, 10. We shuffled each other around and with a lap left to go I made a run at the lead by making it 3 wide going into 3. It didn't work and I was lucky to keep it on the track. In the feature we were working our way to the front when Martin Robinson and I got tangled up coming out of turn 2. I guess I didn't get off the corner as fast as I usually do and Martin got into the back of me. It was all I could do to keep the car on the track and I got him in the right rear as he passed me and we both took a ride down the back straight away. My car rolled off but Martin had to be towed in. The track officials caught the tail end of the incident and blacked flagged us both for rough driving. I real shame because I don't think Martin hit me on purpose and my in car camera shows I didn't hit him on purpose but we had to park it. Sorry, we don't have any pictures this week but our crew really was pretty down about having to park it. We are scheduled to appear at the Bay Bears Game next Thursday night and we'll be racing in Pensacola on Friday Night and Mobile on Saturday Night. This weekend we will be at J & J with my son racing his Go Cart.
June 19th, While we had a tough night at the the track in the car Saturday night was one of my favorite nights at the track. For the last few weeks our crew has been preparing a special hood to run announcing the birth of Brian & Zondra Yarbers baby. On June 14th Brelee Nichole was born and we were proud to run the Brelee Yarber hood on Saturday night. While the night for us on the track was uneventful, with a top 5 in the heat and a top 10 in the feature, it was a special night watching the drivers, teams and fans sign the hood and express their feelings for the Yarber's and their new baby.

Our car had a bad handling problem and we were really lucky to end the night in 1 piece. We burned up 2 right front tires and ran Martin Robinson off the track in the heat race. In the feature Martin and I worked our way through the pack and were running 6-7 and we started swapping spots back and forth. While it didn't show up on TV we had some great racing. After the race I talked with Martin and while I was pushing he had a spark plug wire that came off. Each of us would handle enough just to get by the other. On the last lap I tried to pass Martin on the outside and my car nearly caught the wall to take the checkered flag and we lost a few spots.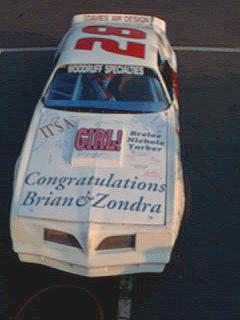 Our Car with the Brelee Yarber hood.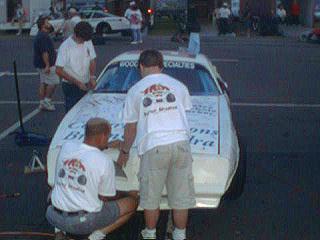 Our crew, Josh, Ward & Cameron, getting the car ready to go.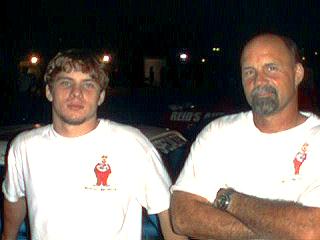 Ward & Cameron taking a break after fixing some more stuff I tore up during the heat race.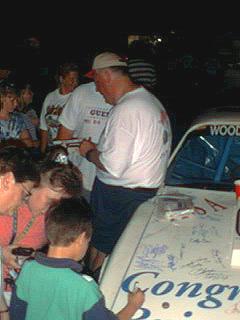 Some of the fans that came by the car after the race and signed the hood.
June 5th, After I tore the car up on the 15th our crew had to work overtime to try and get it back together. They busted their butts for 2 weeks and then we were rained out. Brendan Catlin, Brian Yarber, Tom & Big John Claxton, Twilley & Josh killed themselves to get us ready and they did a great job. The rain was a great deal for us because we got another week to get our act together. We were able to get one test day in and worked some of the kinks out but we were still off the prewreck pace. After our first set of hot laps on race night we were doing a routine check and the front right spindle was chewed up. Since there were going to be no transfers from the B-Feature we had to qualify the car or miss the big show. Again, our crew went to work, Brian, Brendan, Ward & Cameron Davis, completely disassembled the right front suspension, replaced the spindle & bearings, reset the tires and we were able to qualify. OK, so I stunk that up too, we only made the show by 1 car. The race finally started and I think I made half a lap and realized I had little to no brakes and we were dead last, man this was going to be a long night. That's when the coach came out in Brian and we started to work our way through the field. By the time the race was over we scored a top 5 and finished 4th. I wish I could take credit for it, but it couldn't have happened with out the great group of people that make our car go every week. We'll be back in 2 weeks after my son, Thomas, makes his debut in his new cart at J & J Speedway Saturday Night.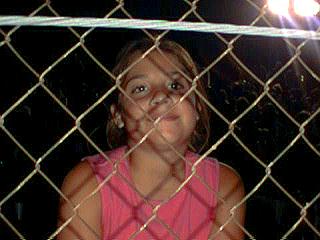 My daughter Hayley made it down to the track.
Some of the crew that makes us go-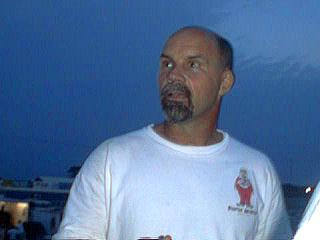 Brendan Catlin Ward Davis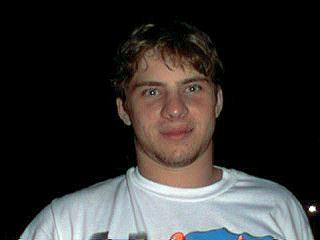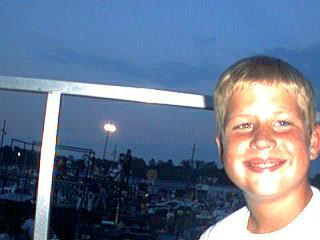 Cameron Davis Thomas Praytor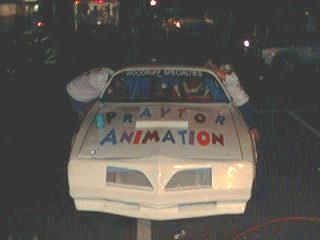 Ready to roll out for the feature.
Some of the late model regulars before the big 150 lap race.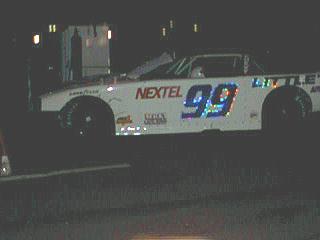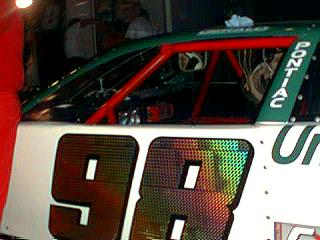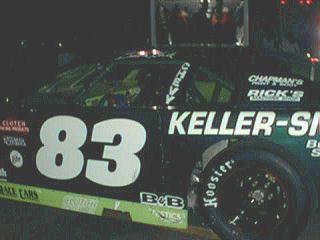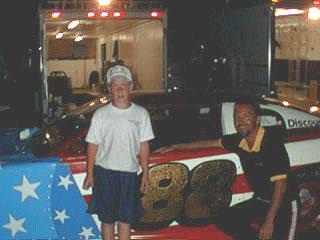 May 15th, We took a great race car to the track and I promptly put it in the wall qualifying. One of the cars that qualified in front of me dropped some oil on the track and it sent me for a ride into the wall coming out of turn 4. How good was our car? We qualified 9th on 1 lap. Not to be missed in a bad night for us, Jessie Reid brought a freshly built brand new car to the track and won the A Feature. congratulations to Jessie and his crew (See Picture Below)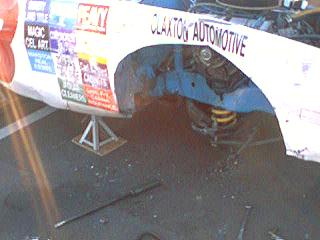 I flattened the right side of the car and basically tore out all of the suspension on the right side of a great car.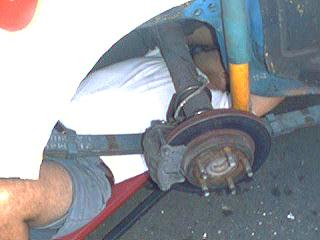 That's Ward under the car taking out the drive shaft and trying to get the rear wheel back on so we can roll the car back into the trailer.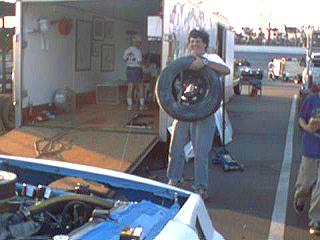 Josh carting off some of the debris.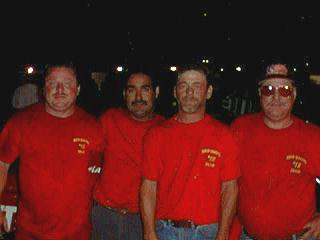 Jessie Reid and his crew after their win. Last time I stole his steering wheel, I stole his trophy this time.
SATURDAY NIGHT RACING MAY 1
After we took such a bad car to the track we completely changed the shock and spring package on our car. We were charting new territory with the set up, Brian Yarber and Twilley lent us a hand and we took the best car we've ever had to the track. The problem was, it was nothing like I had ever driven before and we had to do a lot of on the job training. I was able to put the car anywhere I wanted to during hot laps but I still didn't get a chance to really wind it out. After the hot lap session Mark Davis & Mike Woodson helped me with the driving style for the new set up, while Brian and I were working on it over the radio on the track. My newness with the setup showed during qualifying, I over drove the car and took it in to the turns way too deep and nearly pushed off the track and in to the wall. We were still able to qualify 13th. The heat race started really bad with me getting hung up behind another car on the start and letting Jessie (90), Kevin (52) and Howard (1) get by me. We were able to pass everybody back but Jessie and we were having a tough time getting around him. So, instead of taking a comfortable second I pushed too hard and nearly looped the car and had to take a disappointing fourth. Starting 13th in the feature we knew we had a long way to go and we were still trying to teach me how to drive the new handling car. We stayed out of trouble and made out way up to a 6th place finish.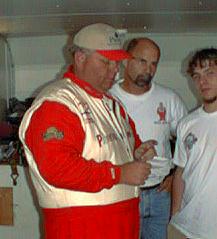 Ward & Cameron Davis and I go over some of the new set up numbers.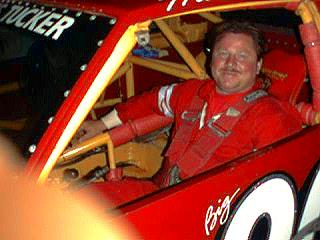 After Jessie beat me in the heat race, I got even with him before the feature. While he stepped away from his car I stole his steering wheel.
SATURDAY NIGHT RACING APRIL17
We got off to a great start with opening night and then we quickly hit the skids. In the feature on opening night we knocked the geometry out of line in the front end and didn't get it fixed all the way and we took a terrible car to the track. We qualified 18th, last row of the a feature, sucked in the heat and worked the car up to 7th in the feature and got together with Little Man and finished a disappointing 12th.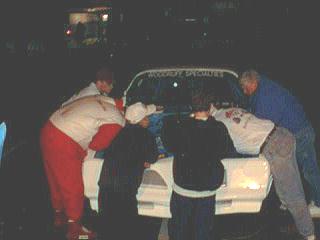 This is how we spent most of the night trying to figure out what the problem was.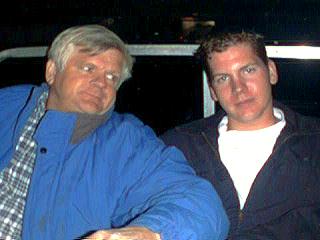 Brendan Catlin's dad Paul came down to the pits. He wasn't happy with the car either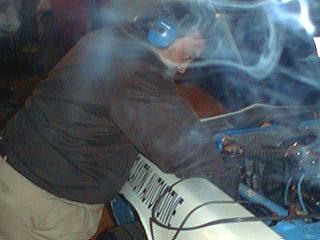 Doug Knoll watches our shot at winning go up in smoke.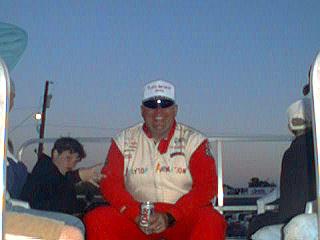 I can't drive but, I look good.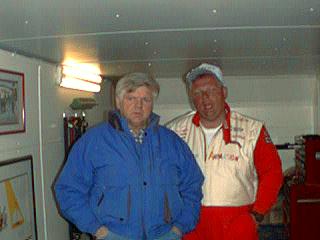 "I turned left but the car went right".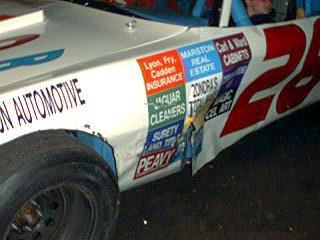 How the night came to a close.

OPENING NIGHT 1999
WOW! What a way to start the year! I went to the track concerned about the wholesale changes we made to our car after the last practice session. We had a good hot lap session and then we set one of our best qualifying times which put us starting 11th. We made a few more changes after qualifying and during the heat race the car was the best it had ever been. We started on the outside front row and after a couple of laps moved into the lead and won our first race of the year! With a win underneath us and a good car we were looking forward to the feature. Early on Todd Martin got by me on a restart and the 2 of us started to work our way up to the front. we had moved up to 7 or 8 when Jessie Reid got sideways in front of us and I checked up to miss him coming out of 2. Unfortunately, the car behind me didn't see it and hit me in the rear turning me sideways. The 1 car wheel hopped my front left and his rear end flew over my hood, then the 36 car tag me in the left quarter panel. I was able to restart the car and finish the race, but the car wasn't the same. Todd went on to finish third and I'll guess I'll have to bench race what we could have done, until next time. Tommy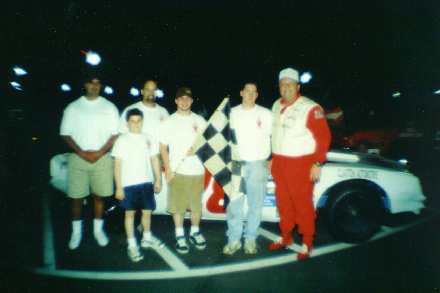 OPENING NIGHT WIN
Kevon Baxter, Evan Davis, Ward Davis, Cameron Davis, Brendan Catlin and Tommy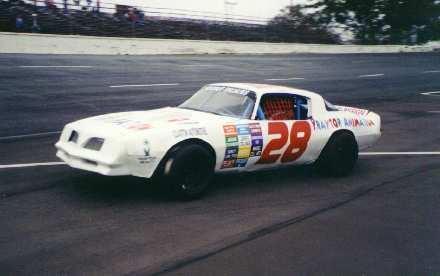 Our car before I started putting a few dents in it.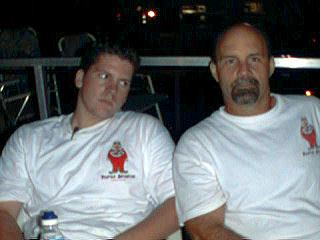 A couple of members of the crew taking a break, Brendan Catlin & Ward Davis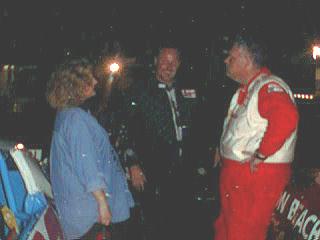 Who's got the biggest belly contest? Zondra Yarber on the left, Fatboy on the right-Hey Zondra want to borrow some clothes? Of course Zondra's will be gone in a few months and I'll still have mine.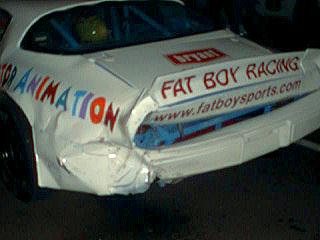 Post race with a new dent in it.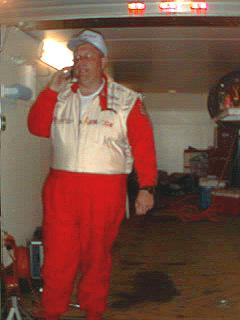 That's a large with thick crust and don't forget the bread sticks!
TEST RESULTS MARCH 28, 1998
After a long winter and a lot of hard work by our crew we were able to take the car to the track for the first time on Sunday the 28th. Our car has basically been rebuilt from the ground up and almost every part has been taken off, replaced, reworked or remanufactured. Our times were less than spectacular, I think we have a driver problem, but we will be making changes from what we've learned and get ready for the opener.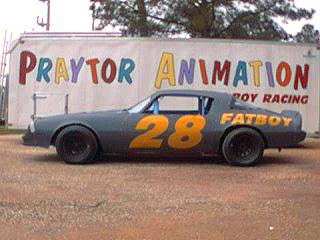 Our car with testing paint and stickers. Look for new paint scheme for Opening night.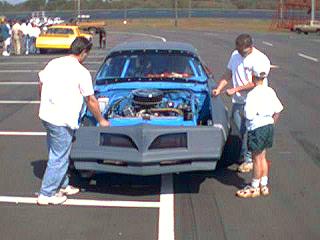 Some of our crew at work at the track, Gene Friday, Brendan Catlin & Thomas Praytor. Terry Rodgers is not in the picture but was a huge help in getting the car ready.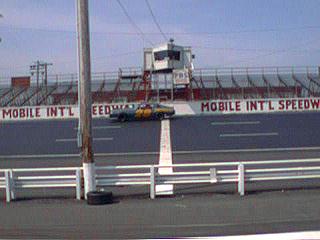 On the track.