Latest News

Praytor Takes Over Active ARCA Ironman Status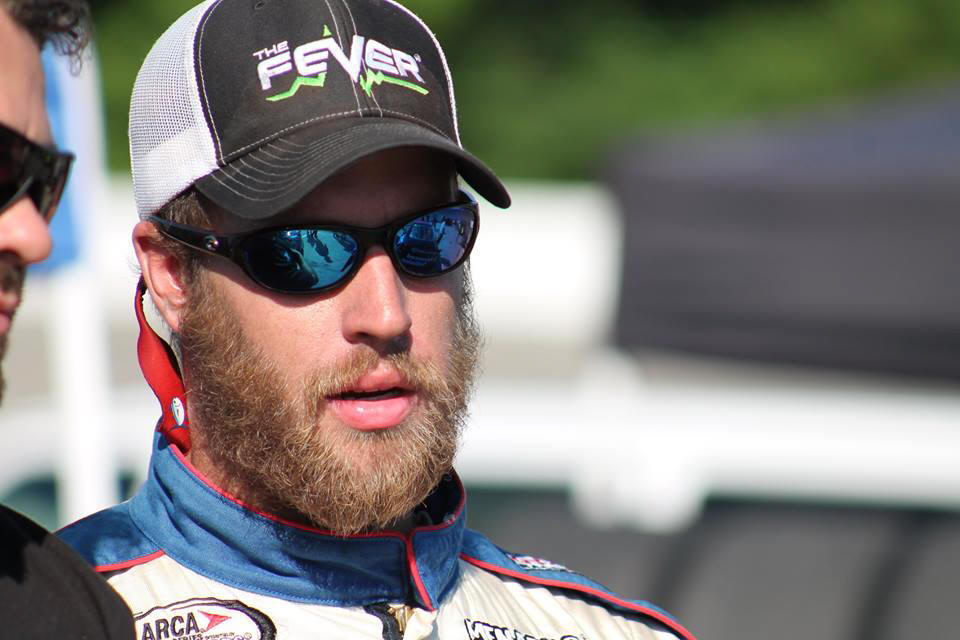 With his 83rd consecutive start in the Music City 200 Thomas "Moose" Praytor takes over as the ARCA Series Active Ironman. Currently Praytor has more consecutive starts in ARCA than any other active driver.
The Ironman in any sport is usually reserved for throwback style players, Footballs, Jim Marshall, Baseballs Cal Ripken and drivers like Frank Kimmel, Ricky Rudd, Terry Labonte and Mobile's Rick Crawford, the long time Ironman of the NASCAR Craftsman Truck Series. Not only do they play hard, they worked hard in the shop and that work ethic keeps them coming to the racetrack, when others would call it a day.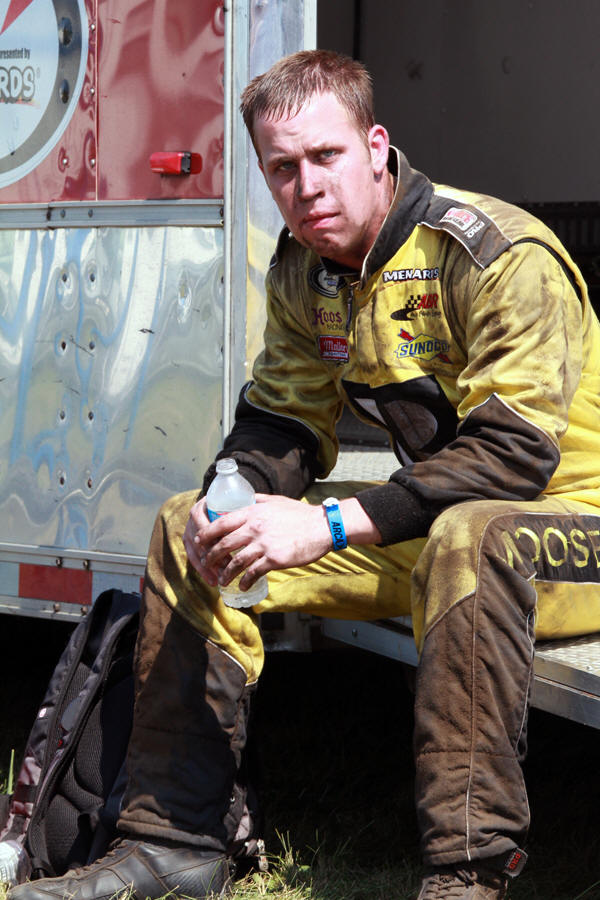 Rudd taped his eyelids open to race, on 2 occasions Marshall walked out of the hospital to join his team on game day, Crawford left the infield Care Center to win at Daytona and Kimmel made 386 consecutive starts on his way to 10 Championships. Praytor has already experienced his share of tough starts, kidney stones, carbon monoxide poisoning, head dingers, torn muscles and some bones & joints that will tell him the weather forecast for years to come. But the Moose keeps on going.
"The idea that I'm still in the Series, still coming to the track every week is just incredible. We were only supposed to make 3 starts five years ago and well we're still going. I don't really think about being the Ironman, I just think about how fortunate I am to have a ride and nothing is going to keep me out of it."
Climbing into a racecar was not always been a given, in 2003, while racing at Sunny South Raceway, Praytor hit the wall so hard his seat assembly came loose from the car allowing his head to hit the wall on impact.
Lifeflighted from the track, Praytor was in a coma for a week, survival first, racing would have to come second. Once on the mend, the Doctors prescribed one year of no racing or football. Praytor spent the year rehabbing his body and rebuilding his wrecked race car while spotting for his Dad. At the end of the year, the Doctors cleared the Moose to return to action but Mom was a much tougher sell. Eventually she came around and Praytor was back in the saddle.
"I never have remembered the wreck but I'll never forget that year on the sidelines. I think the year off really made me appreciate the opportunities you have. I look at each start as special, I know there are thousands of other guys who would kill for my spot and I'm not giving up my seat to anybody."
While the laps continue to pile up (Over 10,000) Praytor and his family owned Max Force Racing are focused on not just starting but improving. Last season Praytor turned in his best season on tour finishing 5th in the Championship Standings. And like the song says "with a little help from my friends."
"There are so many people that have contributed to me being here. Belmont and Venturini gave me a shot, Hixson really got me going and every major owner in the series has contributed to me staying here. The support we receive in Mobile is just incredible, day and night friends come by the shop, pitch in and help us get our cars prepared for the track. We couldn't do it without all of our friends."
Most young drivers look at the ARCA Series as a stepping stone to bigger rides, Praytor has a unique perspective: "If it all ended tomorrow I've done more than I ever dreamed I would get to do as a race car driver. Daytona, Talladega, Pocono those were fantasy tracks on my computer not reality for a Super Stock driver from Mobile International Speedway. We still have so much more we want to accomplish."
Consecutive start #84 is the Kentuckiana Ford Dealers 200 at Salem Speedway on April 30th.
Praytor Hits Sour Note in Music City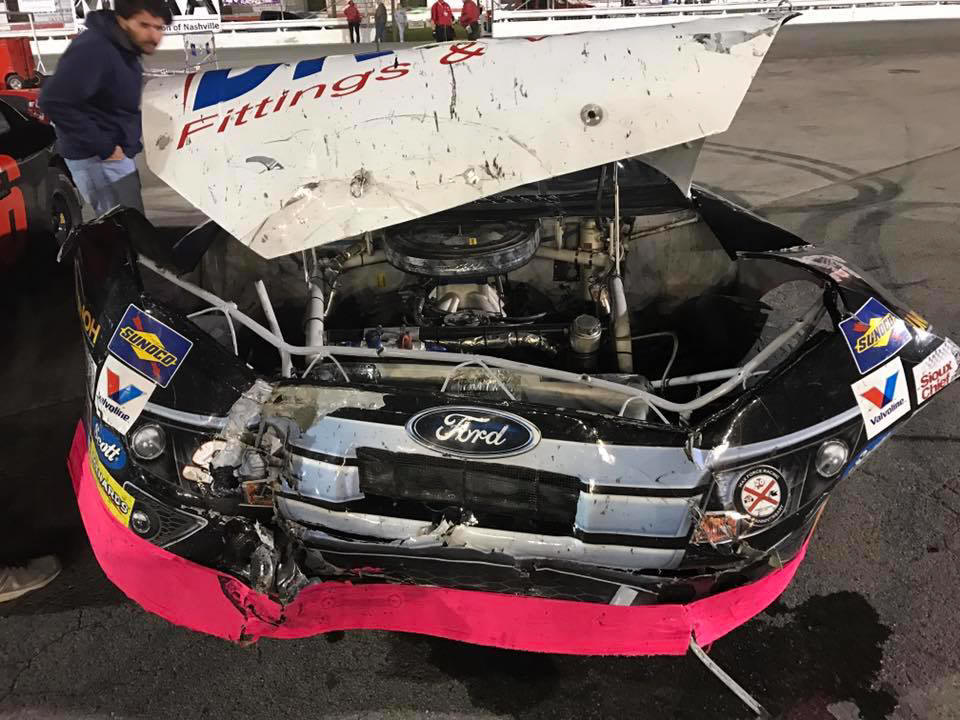 The Music City 200 presented by Azure Foundation has become one of Thomas "Moose" Praytor's favorite on the ARCA Tour. Classic short track action mixed with a big field of high octane competitors make for great racing. The 2017 installment was anything but to the DK-LOK team and worse to the Chassis chosen for the assignment, RK-500.
The day began in usual fashion with the team working hard on finding the right balance on the DK-LOK Ford. With a long list of changes during the hour and a half practice session the Moose qualified 18th placing the legacy motor ahead of some of the new Ilmor engines.
With the drop of the green flag the Moose and his DK-LOK Ford resembled a salmon swimming up stream versus a man on the move. In the first few laps of tight racing Praytor picked off the cars in front of him but he was in the middle of a pack moving forward and one of the cars took off his right rear quarter panel puncturing the tire.
A small hole turned into big handling problems and the Moose started to fall back, the hole gave way to a blow out and he was in for wild sideways ride before getting under control. The spotter had him stay on track looking for a caution that finally came costing the team valuable track position early.
Three laps down Praytor started racing hard to put the DK-LOK Ford in position for the lucky dog. Three laps turned to two, two to one and the caution needed to put the team on the lead lap ended the night. Two car got together off of turn 4 blocking the track in front of Praytor and the Fusion T-Bone one of the cars destroying the radiator in Praytor's Ford.
"We had a decent DK-LOK Ford just a bad night on the race track. The guys worked hard in practice and really improved our race car and we had a solid qualifying effort taking out some of the Ilmors. It's amazing how much this track has changed since last year. I don't think we have the balance where we need it yet on our cars and we'll keep working on it. Looks like we'll bring back Black Betty to Salem, another great short track car. We had a lot of local support up from Alabama this weekend really appreciate everyone being there."
A few weeks off before the Kentuckiana Ford Dealers 200 at Salem Speedway April 30th on MAVTV.
Praytor Trains With Alabama State Troopers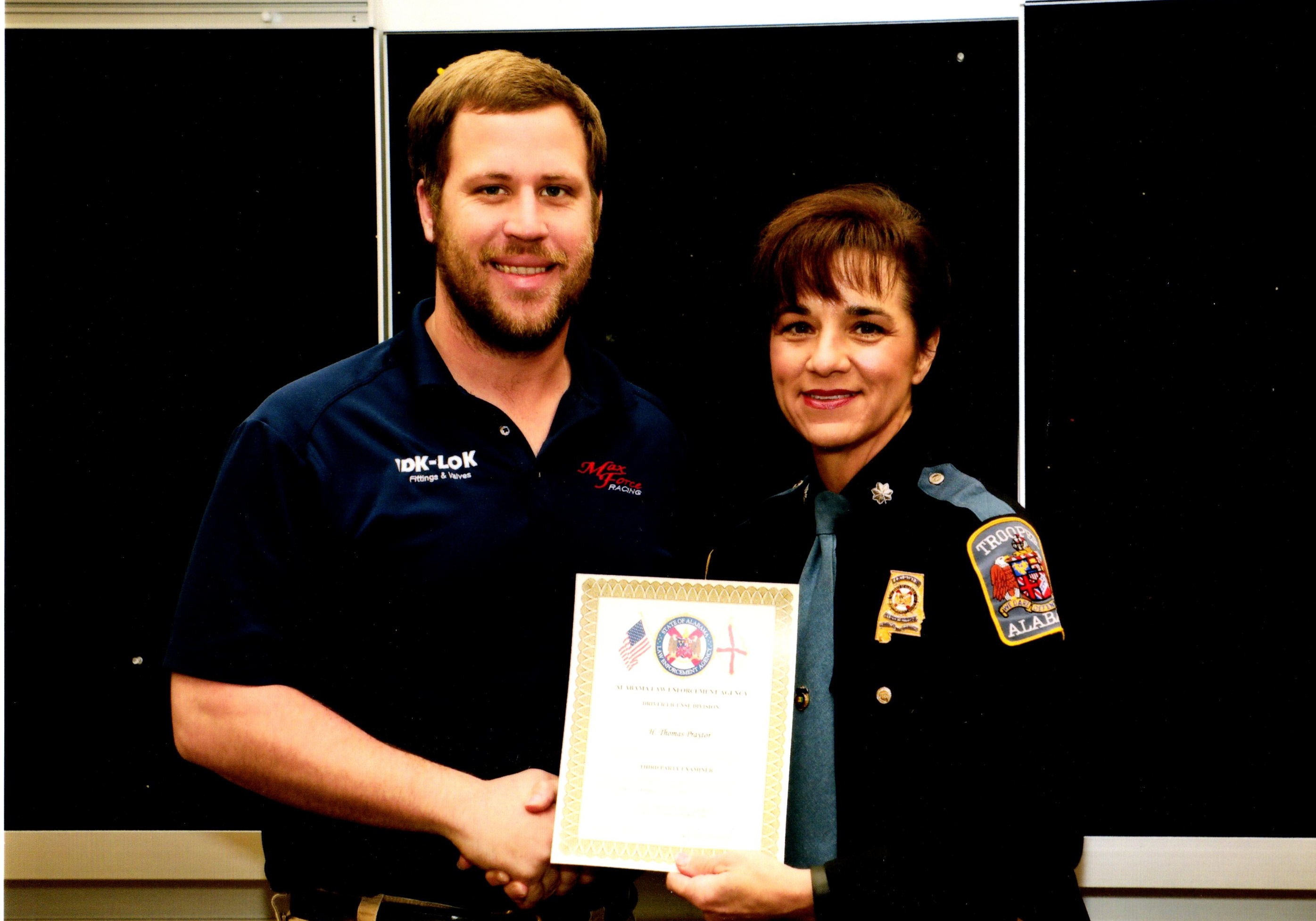 In most cases when you combine a race car driver and Alabama State Troopers for a week, the outcome usually isn't too good for the driver. This time Thomas "Moose" Praytor finally earned some paperwork from the Alabama Department of Public Safety that wasn't a ticket.
Professor Praytor added CDL Examiner to his non racing resume and now has the same power as an Alabama State Trooper to administer the CDL driver's exam.
"The last few semesters teaching at Bishop State has been really rewarding. Every one of our students has been employed within a week of completing our course", said Praytor. "Bishop State gave me the opportunity to go to school with the Troopers and that was a whole new learning experience!"
With a hole in the ARCA schedule after Daytona Praytor has enjoyed the time away from the shop but is ready to get back behind the wheel.
"Nashville is a good track for us and we've been working really hard on our short track cars in the off season and we're looking forward to the Fairgrounds."
The Music City 200 presented by the Azure Foundation is Saturday, April the 8th at the Fairgrounds Speedway in Nashville. Practice is 1:15 to 2:45 with General Tire Pole Qualifying at 4:15. The green flag is slated to wave at 8:00PM CST. Live timing and scoring of practice and qualifying will be on www.arcaracing.com. The Music City 200 will be the first live broadcast on MAVTV. With the addition of MAVTV all 20 ARCA Series races will be televised in 2017.
Daytona Ends In A Cloud of Smoke,
Dirt & Disappointment for Praytor

Max Force Racing began its 20th Season of competition at the World Center of Speed in the Lucas Oil Complete Engine Treatment 200 driven by General Tire on Saturday.
After a career season in 2016 Thomas "Moose" Praytor and his Max Force Team rolled in to Daytona looking to capitalize on the momentum they created last season.
Technical inspection and practice went as planned with the Moose clocking the 8th fastest time in practice. A disorganized group in group qualifying had Praytor rolling off a disappointing 23rd.
With the drop of the green flag the Moose and spotter Tab Boyd, on loan from Joey Logano, quickly worked their DK-LOK Ford from 23rd up to 12th.
A caution on lap 20 gave the team its first big decision of the day, come in or stay out. The fuel calculations said the team would have to come in again if they brought the DK-LOK Ford to pit road and the team decided to keep Praytor on the track.
The decision moved the Moose up to 3rd behind the 78 and 98 of Mason Mitchell Motorsports. Back under green the trio was joined by Matt Tift's, Kyle Busch Motorsports machine and the four cars quickly broke away from the field. (Pic above)
The four cars spent the next 30 laps nose to tail pacing the field until a timely caution flag on lap 50 let the DK-LOK Ford come to pit road for badly needed fuel.
With just a few cars using the same fuel strategy the team decided to pack the Ford full of fuel versus just enough to get them to the end of the race. The weight of the extra fuel would help pull the rear spoiler down out of the air giving the team and extra advantage back on the track.
Back under green Praytor had to be patient for the strategy to play out, the other cars would have to pit again before the end of the race moving the Moose, 78, 98 and 18 back to the front.
On lap 65 the DK-LOK Ford was drafting in the outside lane and the inside lane had a bump draft go wrong sending the 15 of Lelani Munter into the Moose's left side door and the DK-LOK spinning and bouncing off other cars in to the infield grass in a plume of smoke, dirt and flying grass.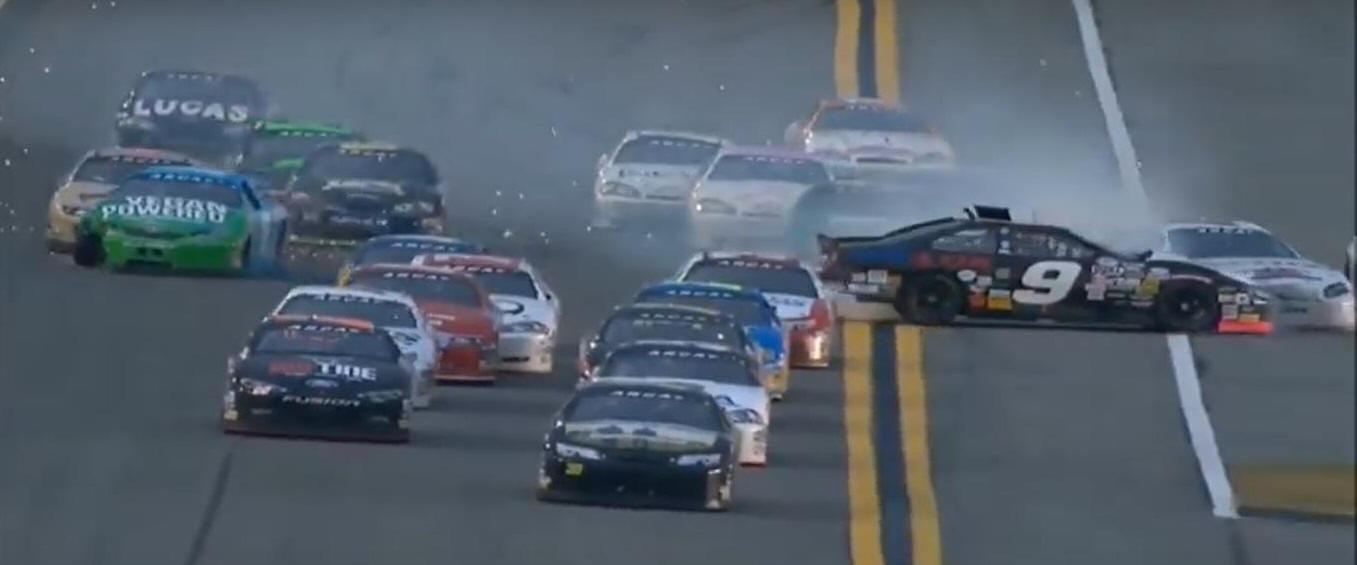 Praytor's DK-LOK Ford was battered and bruised but it wouldn't fire up, getting the Ford a ride back to the garage on a wrecker and the Moose a trip to the infield care center.
The team quickly went to work on the machine and had it ready to return to action but didn't have a driver. Praytor's CO2 levels were too high in the infield care center and they had him held up until those levels returned to normal.
Ed Pompa was involved in the same wreck but his Clemson car was done and the team recruited Pompa to finish the race. Pompa strapped in and just as the car was ready to return to the race the final caution flag flew and the race was called after a long red flag period ending this year's Daytona race early.
"Our DK-LOK Team had a solid Speedweek in Daytona. We had speed all weekend and we showed we can run up front and compete with the biggest teams in the sport," said Praytor. "We can't do what we do without all the people in Mobile who support our race team. We had a record number of tire sponsors for Daytona this year, just incredible. Our all-volunteer UNOH crew had a good week and did a great job on our stop and getting our Ford patched back up to go back out. I appreciate Ed Pompa climbing in for me. Congratulations to our spotter Tab Boyd, he and Joey Logano won the Clash on Sunday, he does an awesome job. We have some work to do before Talladega but we're really looking forward to putting on a show in front of our home state fans."
Next up, Nashville on April 8th.
MAVTV Signs ARCA Racing Series to Multi-Year Broadcast Agreement

The Automobile Racing Club of America (ARCA) and MAVTV announced a new multi-year broadcast rights agreement for the ARCA Racing Series presented by Menards under which racing events will be televised on MAVTV during the 2017 through 2019 racing seasons.
Ten races will be telecast on MAVTV in 2017, with ten races having already been announced for broadcast on Fox Sports 1. The pairing of MAVTV and Fox will put all Twenty ARCA races on National Television in 2017.
"MAVTV is working hard to become the home for motorsports and I think they will make a great outlet for ARCA Racing," said Thomas "Moose" Praytor. "The combination of Fox and MAVTV means our fans will get to see every heart pounding lap from places like Salem, Winchester and Elko plus the speed of Pocono, Chicago and Talladega."
The first of the three-year agreement, coverage begins Saturday night, April 8 with the first Live broadcast from Fairgrounds Speedway in Nashville, Tennessee. In addition to Nashville, races from Elko Speedway in Elko, Minn., Madison International Speedway in Wis. and the Illinois State Fairgrounds will also air Live on MAVTV.
"MAVTV continues its long-term commitment to motorsports," said Bob Patison, president of MAVTV. "We see the ARCA Racing Series presented by Menards as a premier property on our network, and are happy to begin our ARCA relationship with this new contract."
In addition to the Live events, MAVTV will provide coverage from an additional 6 ARCA Racing Series events, including delayed broadcast coverage from the 4-mile Road America road course in Elkhart Lake, Wis., plus great short track action from Iowa Speedway in Newton, Iowa, Winchester Speedway in Ind., the dirt mile at DuQuoin Fairgrounds in Southern Ill. and both Salem Speedway events in Ind.
MAVTV can be found in the US on major cable providers, including Cablevision, Charter Communications, GCI in Alaska, select cable systems within the Caribbean Co-op, Xfinity, Time Warner Cable, AT&T U-verse and DirecTV (214). MAVTV is currently available in 62 million homes.
"ARCA has a well-established history of investing in long-term relationships, and that certainly holds true in the case of our television network partnerships," said ARCA President Ron Drager. "We're very pleased that MAVTV will become a broadcast partner, and are proud to be a part of their programming mix. As we build our plan for the future of the series, we're especially enthused to make this major, multi-year announcement. This mutual commitment between ARCA and MAVTV provides our series a high quality television platform available to deliver a tremendous value for viewers, race teams and sponsors."
Sponsor-GoodBookey Featured in Forbes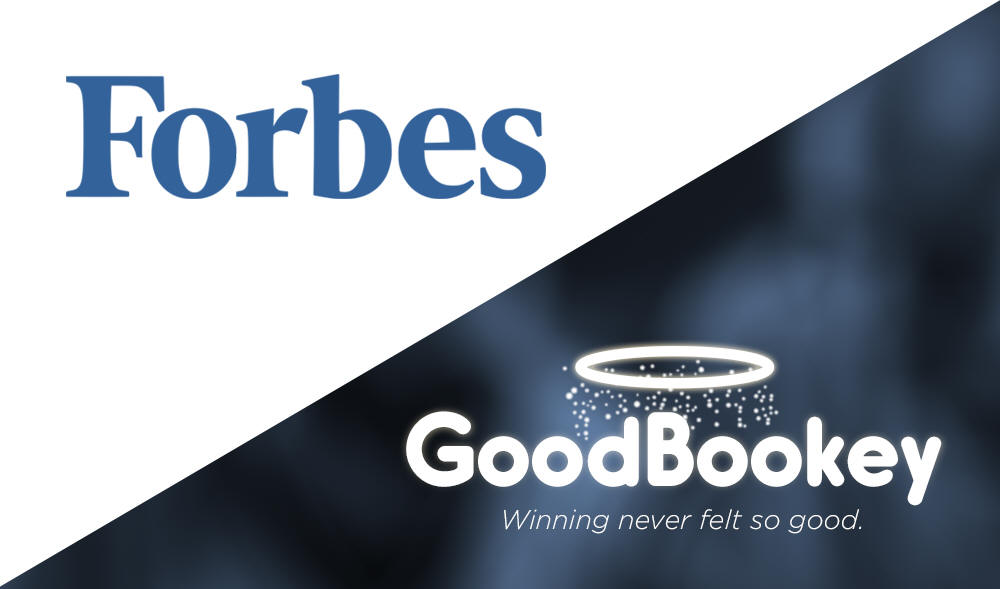 GoodBookey America's online charitable gaming site and sponsor of the Thomas "Moose" Praytor's ARCA car is featured in Forbes. Follow link below for full article:
http://www.forbes.com/sites/matthunckler/2017/01/19/like-betting-on-sports-this-app-turns-lost-bets-into-charitable-donations/#2b79519b5d52
Watch GoodBookey President Tony Pease and Operations Officer Sarah Deasy give a short presentation on GoodBookey using their involvement with racing as part of their presentation.
"Congratulations to the entire GoodBookey team on being recognized by Forbes. We had a lot of fun with GoodBookey and The Chive Charites on the car in Kentucky and Kansas," said Praytor. "They are making a difference in a fun way that everyone can be involved with. I'm taking all bets against the Patriots, download the app and put your money up!"
ARCA Get to Know Thomas Praytor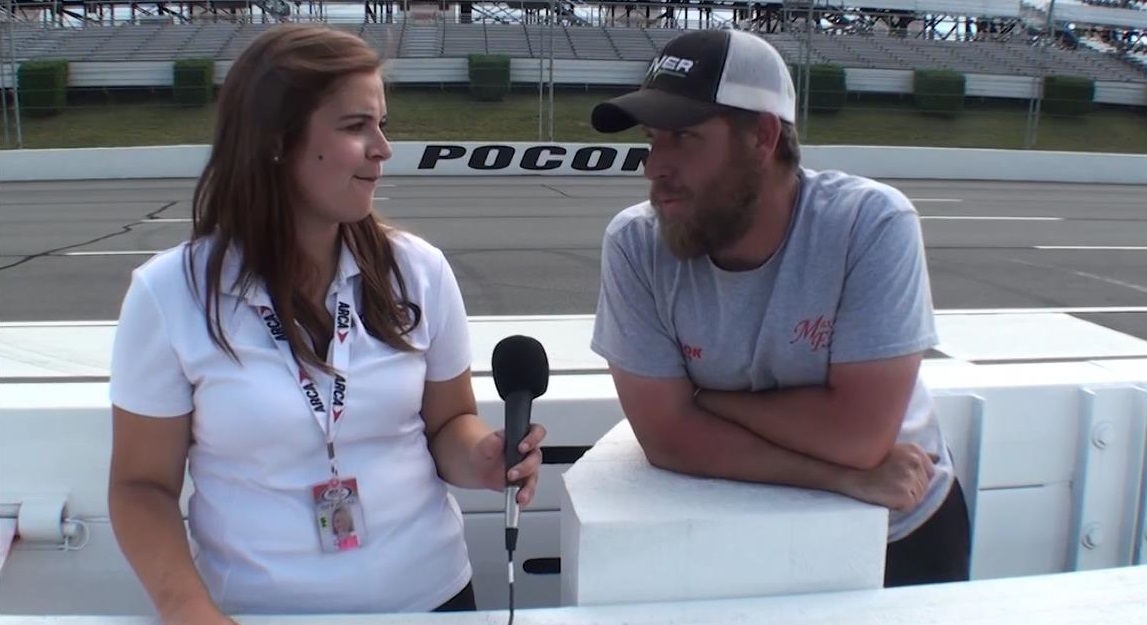 In 2016 ARCA has been producing a series of "Get To Know" video segments with some of the top drivers in the Series. Unfortunately, they sent the newest addition to the ARCA PR team Katie Wernke to interview Thomas "Moose" Praytor. The actual interview was over 30 minutes long but Katie was only able to salvage about 3 minutes to use for this segment. You get a sense in the first 10 seconds that this interview is already off the tracks, Thomas picked inside the safer barrier at Pocono for the location. If you were ever wondering if race car drivers were let's say different, well here is your answer.
http://www.arcaracing.com/videos/2028940

Praytor-McCarron Score Again at AIDB Race Fever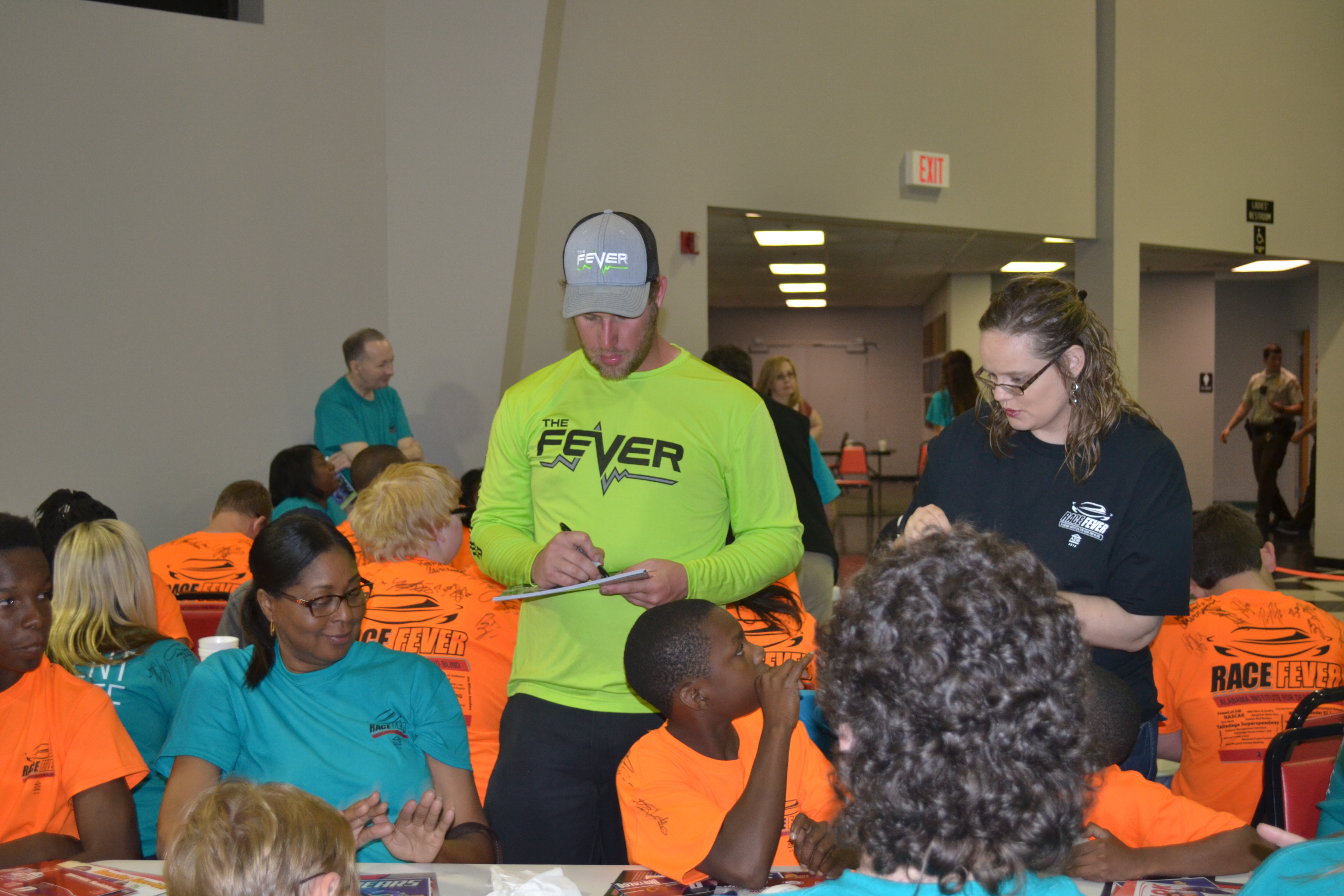 Alabama's Thomas "Moose" Praytor has been fortunate enough to race at Talladega for the last 5 seasons and each year rain or shine, tore up car or not his final stop is the Alabama Institute for the Deaf and Blinds (AIDB) Race Fever Auction at the Talladega Hall of Fame.
"People hear me say all the time we are all very lucky to be doing what we're doing and we need to give back when we can. As an Alabama driver Talladega is a special place to me and I've been able to take part in Race Fever every time we've raced here," offered Praytor.
As they have done in the past, Praytor and his high school teammate AJ McCarron contributed a McCarron Styled Racing Helmet to the auction. "G-Force Racing Gear gives us the helmet, our buddies at Advanced Collision painted it and Racing Electronics was nice enough to wire it up for us. The helmet we auction has just finished the race and I guess that's the lucky part for me, so far I've been able to deliver that helmet to the auction."

After a round with MRNs Postman Steve Post, Praytor signs autographs for the kids and the fans before returning to the stage to work with Fox Sports Darrel Waltrip on whipping up a big pay day for AIDB. "Thomas, or as we like to call him Moose Muffin has become a really big part of our festivities," said Jessica Parker with AIDB Race Fever. "He's always great with our kids and fans, our crowd is mostly from Alabama and having an AJ helmet is big in this part of the world."
The helmet is normally a big ticket item and this year got within $300 of a Racing Hall of Fame helmet signed by- Richard Petty, Bobby Allison, Ray Fox, Buddy Baker, Benny Parsons, Ned Jarrett, Junior Johnson and Red Farmer. "The whole Race Fever Experience just makes you feel good, the kids, the fans, the place, Postman, DW, the ladies from AIDB that work it, it's just an incredible experience to be a part of it. Hopefully, next year I'll get another shot at running Talladega and hopefully I'll be able to bring over another sweaty helmet for DW to auction off."
The ARCA Series has a couple of weeks off before beginning the Northern swing with 4 races in 21 days, Toledo, New Jersey, Pocono and Michigan.
About Alabama Institute for Deaf and Blind: At Alabama Institute for Deaf and Blind (AIDB), the education continuum begins at birth and lasts a lifetime. AIDB is uniquely known as the world's most comprehensive education and service program for children and adults of all ages with hearing and vision loss. We serve more than 20,500 individuals each year in all 67 counties of the state. This commitment to excellence is carried out through three residential schools, serving children, ages 3 to 21 from across the state (Alabama School for the Deaf, Alabama School for the Blind and Helen Keller School of Alabama) in addition to an education and rehabilitation program for adults, ages 16 and older (Gentry Facility), an industrial, manufacturing complex (Alabama Industries for the Blind) and a statewide network of regional centers (Birmingham, Dothan, Huntsville, Mobile, Montgomery, Talladega, Tuscaloosa and Tuscumbia). For a tour or additional .
Praytor Talks Safety With Special Group of Boy Scouts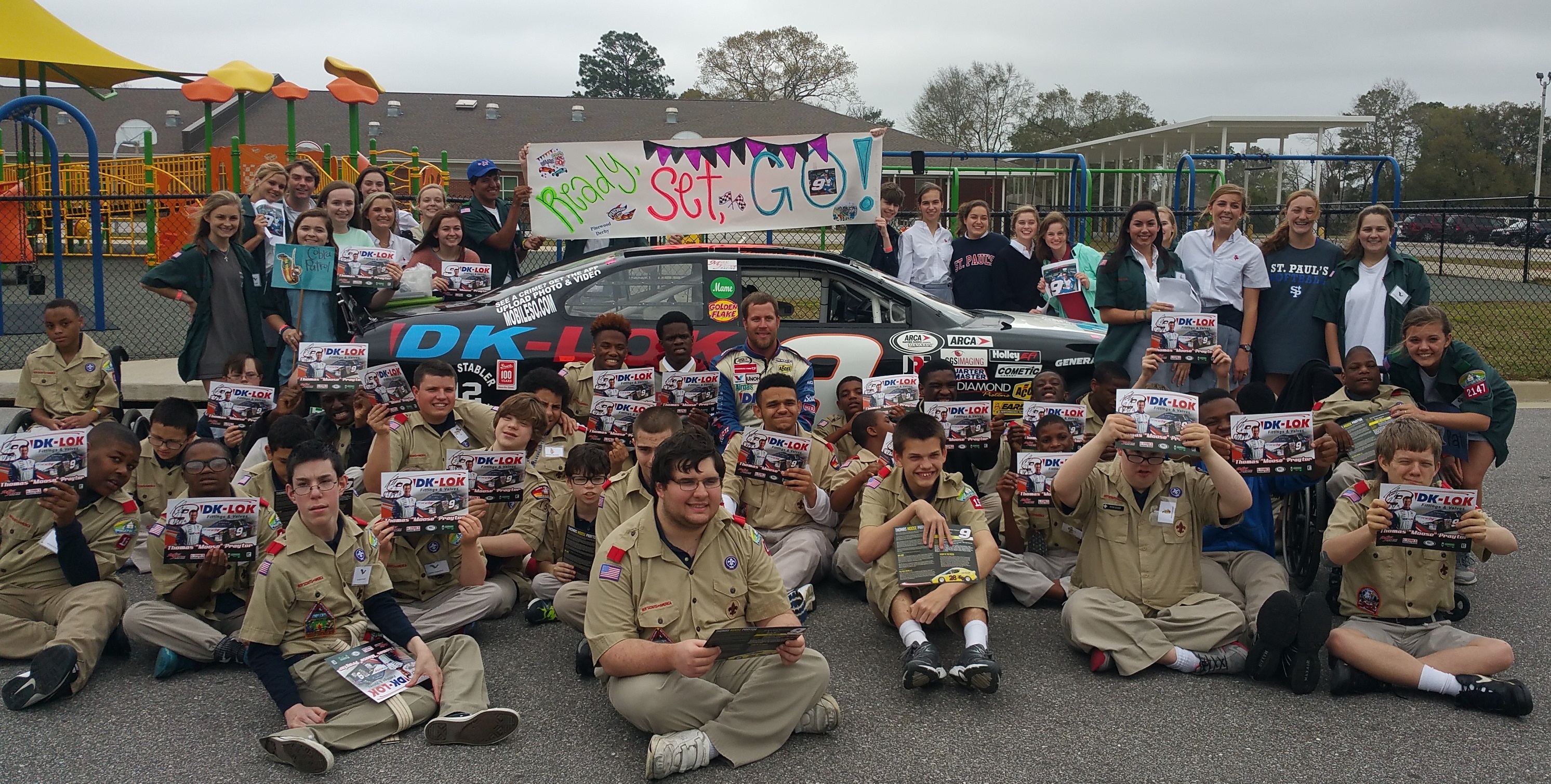 With a break in the ARCA Series schedule Thomas "Moose" Praytor has been overseeing the installation of a new safety initiative at Mobile International Speedway. The hands on experience at the track coupled with 17 years of experience behind the wheel gave Praytor a unique perspective to talk Safety and Teamwork with a special group of Boy Scouts at Augusta Evans School.
"We've always had a unique relationship with Augusta Evans," said Praytor. "In High School my twin sister, Hayley, was one of the sponsors of the program from St. Paul's and we always make sure they have plenty of race tickets."
Augusta Evans is a school for special needs kids from K-12 grade that not only teaches basic education, but prepares them to get a job and be able to take care of themselves. The Boy Scout and Girl Scout Program are a big part of achieving those goals.
Video Moose Climbing in Car: https://www.youtube.com/watch?v=FxGgJi3YNSM
"Mrs. Lerner, the kids from St Paul's and all the teachers at Augusta Evans do a great job working with the students. I had a great time spending the afternoon showing the Scouts some of the safety features inside of our DK-LOK Ford. The kids always have a lot of enthusiasm and are eager to learn, I'm happy they let us be a part of their program."
Praytor and his Mobile based DK-LOK team have a few more weeks off before getting back to action in the Nashville ARCA 200 at the Fairgrounds Speedway on April 9th.
Augusta Evans School: Augusta Evans School was organized to provide a quality education, appropriate for mentally handicapped students of Mobile County and individualized to meet each of these student's needs. The faculty, staff and parents of Evans School are dedicated to insuring that every special needs individual receives an education of the highest quality, an education appropriately designed for each individual, an education which provides each individual with the skills necessary to become a productive citizen, and an education delivered in a setting designed to allow each student to develop to his maximum potential.The faculty and staff of Augusta Evans School take pride in its leadership role in Special Education in Mobile County. Realizing that continuing research and continuing preparation are necessary to facilitate change in any endeavor, the Evans professionals are dedicated to providing their educational expertise to the MR community in Mobile County.
Lets Talk Racing!


Listen to Inside Alabama Racing live at 6:00 PM CST on Wednesday on WNSP 105.5
or click below to listen on your computer-
WNSP 105.5
This site and our team are dedicated to winning and having fun. Each week during the season we will update this site with a report of racing action from the previous week. We will also be posting pictures of the team and scenes from the track. Originally this site was designed for Tommy Praytor and his Fat Boy Racing team. Over the last few years Tommy's son Thomas has been making a mark on the racing scene and Thomas's or Thomoose's racing has been added to our site. On June 4th, 2001 the Praytor family lost their third child, Max. In 2002 we changed the name of our combined racing efforts to Max Force Racing in his memory.
This page was last updated on 04/13/17.