Latest News

Moose Was Really Loose! Turns in Best Performance of 2017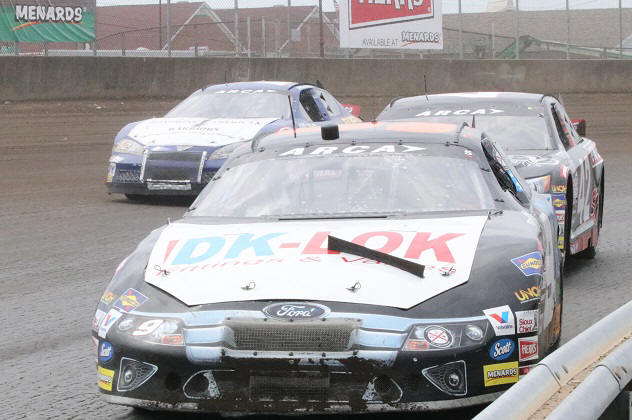 After getting beat up in Winchester, Thomas "Moose" Praytor and his DK-LOK Team returned to the first dirt track that produced a top ten in 2016.
For a guy who had never really raced on dirt until his first dirt ARCA start 5 years ago, the Moose has taken to power sliding like a 5 year old with a big wheel, he ain't done till the tires melt.
Sunday Herr's Chase the Taste 100 at the Illinios State Fair was no different, literally.
Within a few laps of unloading, the ARCA Ironman was extremely comfortable with his DK-LOK Ford and the crew worked on building some adjustments for the 100 miles so they could keep up with the ever changing dirt surface. Praytor would qualify 19th.
The first part of the race was spotted with cautions allowing the team to make changes to get the just right for the final half of the race. It should be mentioned here that with Summer break from school, vacations, babies and work our crew for the weekend consisted of 1 guy, Adam Lowe.
If we had a change, Adam made it. Gas, Adam fueled the car and when we had to change tires, Adam borrowed a Jackman from the 27, carried his own tire, took off the old tire and put on a new one. All the while keeping Praytor on the lead lap!
Of course Adam didn't fly completely solo, we suited up Julie, Thomas's Mom. Her job was to hold the sign to stop the car, then go over the wall and clean the dirt off the grill so the motor wouldn't over heat.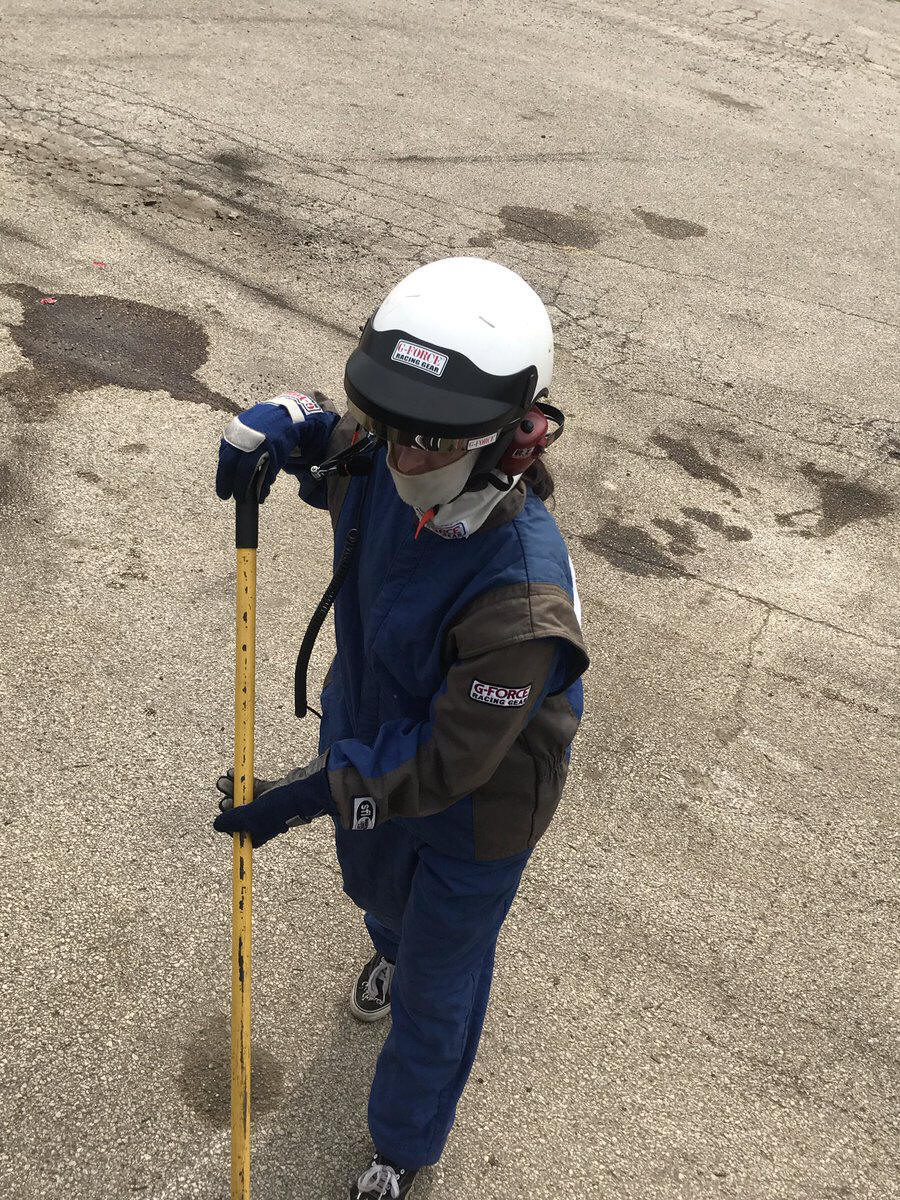 The best part was watching the high dollar over the wall crews getting beat by Adam and Julie.
By halfway, Praytor was rumbling around the old horse track and was a full second faster than his qualifying effort staying with the lead pack and on the lead lap.
Things were going Praytor's way and a massive pile up started in turn 3, cars wrecked in front of him, beside him and behind him, while the Moose snaked his way through into the clear.
"Stuff was going everywhere and you really couldn't see because of all the dust. I missed the 18, thought I was going to hit the wall, the hole closed behind me and more cars piled in, then I barely missed the 34 spinning, it was wild."
After the wreck Praytor started to lose touch with the lead back and radioed in his right rear tire was gone. The hard sliding Alabamian had turned a treaded tire into a slick, just like a big wheel.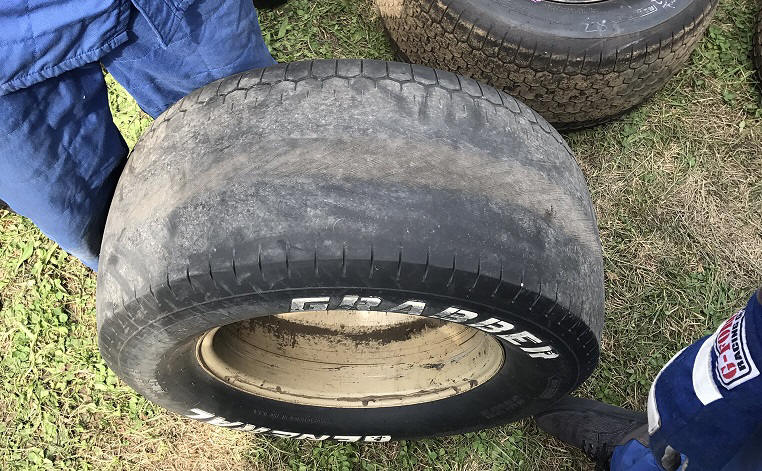 With a new right rear the Moose was loose again on the dirt and taking back spots lost on the burnt up right rear. More cautions led to a 20 lap shootout with Praytor remaining on the lead lap and taking home 13th, the best performance of the 2017 season.
"Congratulations to Grant Enfinger and Kelly Kovski, great win for them really glad to see Kelly back at the track. Congratulating Grant in Victory Lane was like old times when he was winning the Championship. We had a solid day, the dirt really helps bring the Ilmors back to us. The last couple of years I've become a big fan of the dirt. Headed back to the road course next week, not a fan yet."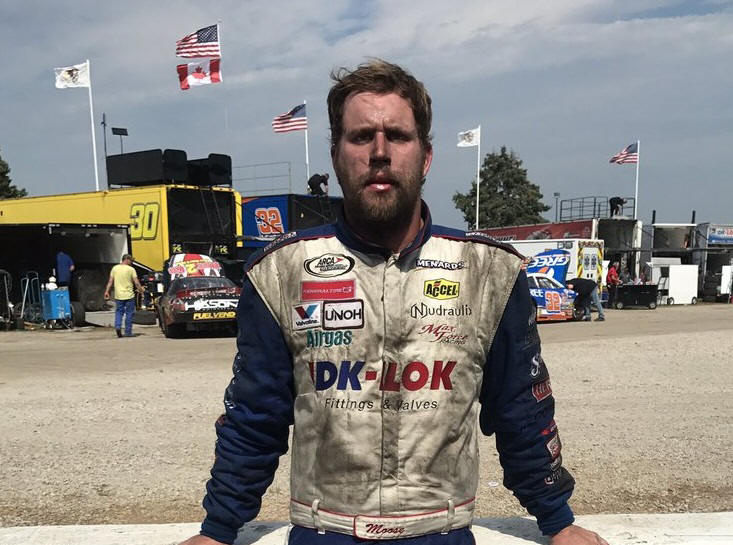 All season long we have been sharing some great pics from the race track, thanks to Harlen Hunter, Jay Alley and Rich Corbett. These guys do a heck of job, thanks!
Did You Hear the One About the Hindu and the Rednecks?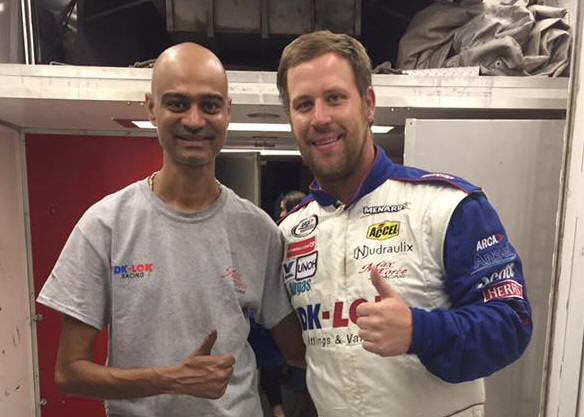 The title sounds like the beginning of a bad joke but in fact it is the story of how Pawan Vittal made it 8,565 miles from Mysore, Karnataka, India to UNOH to working for an ARCA team based out of Mobile, Alabama.
Vittal is part of the UNOH High Performance Team that sends interns to race teams from Dirt to NASCAR. In 2017 he was assigned to Max Force Racing with 6 other UNOH students to work for Thomas and Tommy Praytor.
In India, the Vittal family is very successful in many fields of endeavor but Pawan has the racing bug that includes being a navigator for a road rally team back home.
"I am definitely the black sheep of the family," said Vittal. "The rest of my family is so successful and all I want to do is race."
From India to the biggest racing stage in the world Vittal was dropped off in the deep end with the Praytor's at Daytona.
"I asked Pawan what his name was 3 times before I asked the rest of the group what did they call him," laughs Tommy Praytor. "Finally somebody said we call him Pete."
Prior to Daytona "Pete" had never been anywhere in the United States other than Lima, Ohio. Since Daytona Vittal has made stops in Talladega, Nashville, Salem and Toledo and will soon be in Elko Minnesota. By the end of the season he will have seen more of America than most Americans.
"It has been fun seeing the US, there are so many unique places," offered Vittal.
Needless to say pairing a devout Hindu with a team from Alabama, created some cultural differences.
"First thing we found out was Pawan was a vegetarian. The only vegetarians in Alabama are rabbits. For a team that survives on Hamburgers and Monroe Sausage my Mom had to adjust her cooking plan quickly," said Thomas Praytor.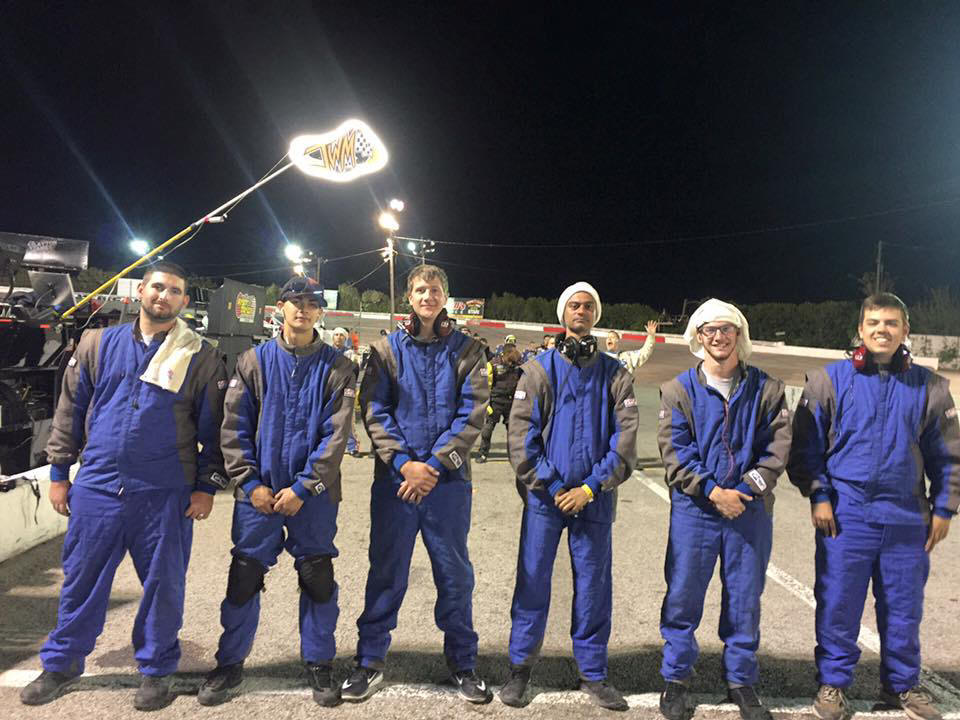 After a couple of races the team understood Pete enough to know his name was Pawan and even Tommy has gotten into the closing the cultural divide. "Each morning I greet Pawan with the traditional Hindu greeting, Namaste while bowing and clasping my hands together. Pawan will shake my hand with an American, Good Morning."
While not exactly détente having Vittal on the team has been a learning experience for everyone.
Julie Praytor, "Pawan is so kind and considerate, he's really been a big help and a lot of fun to have on our team."
In the midst of the cultural divide and a language barrier that is rapidly disappearing (neither side is certain whether Pawan's English is better or they can just understand him) Pawan and his UNOH teammates have gelled into a cohesive unit that's pushed Thomas Praytor back into the top 10 of the ARCA Series standings.
"At the end of the day we don't care if you're from India, Michigan, Maine or Alabama we have a race team to run and everyone has to do their job," offered Tommy. "In just 5 races Pawan is doing a great job of fitting in and working hard with the rest of our guys."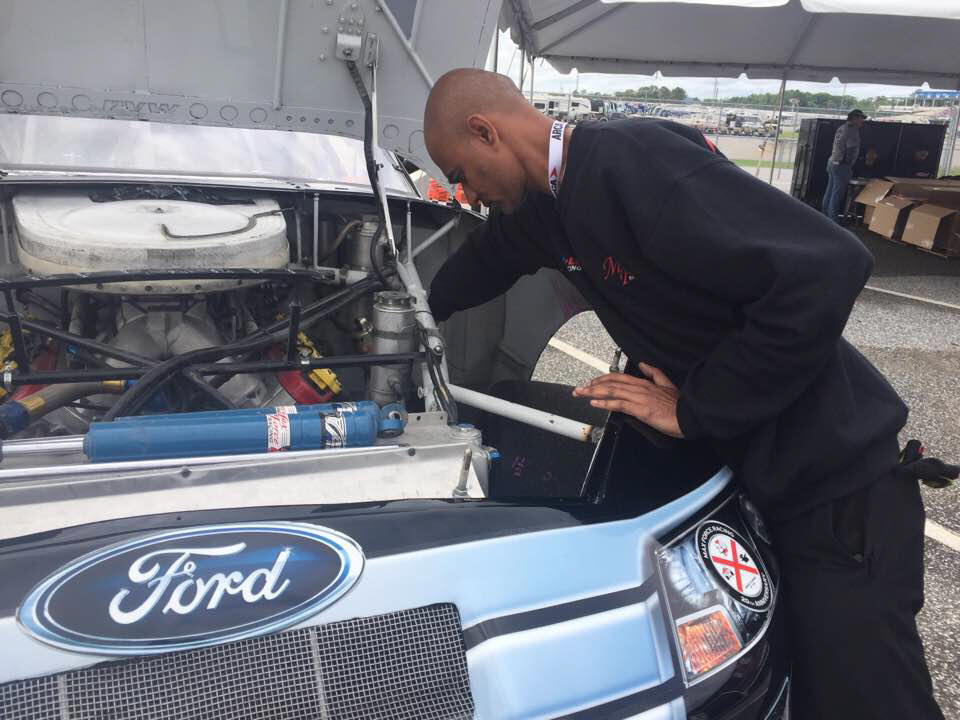 Elko Speedway is the smallest track on the tour and the team will have its most challenging pit stop during the Shore Lunch 250 on June 3rd.
Reflecting on his first 5 races Vittal offered these thoughts, "This has been a great experience for me, the Praytor's welcomed me as part of their family. That means I get yelled at like everyone else by the Boss but I'm also learning a lot about racing and rednecks."
Racing with Rednecks and a Hindu.
Mullins & Praytor: Low Budget Fast Competition
Speed Sport News, By: Adam Fenwick
.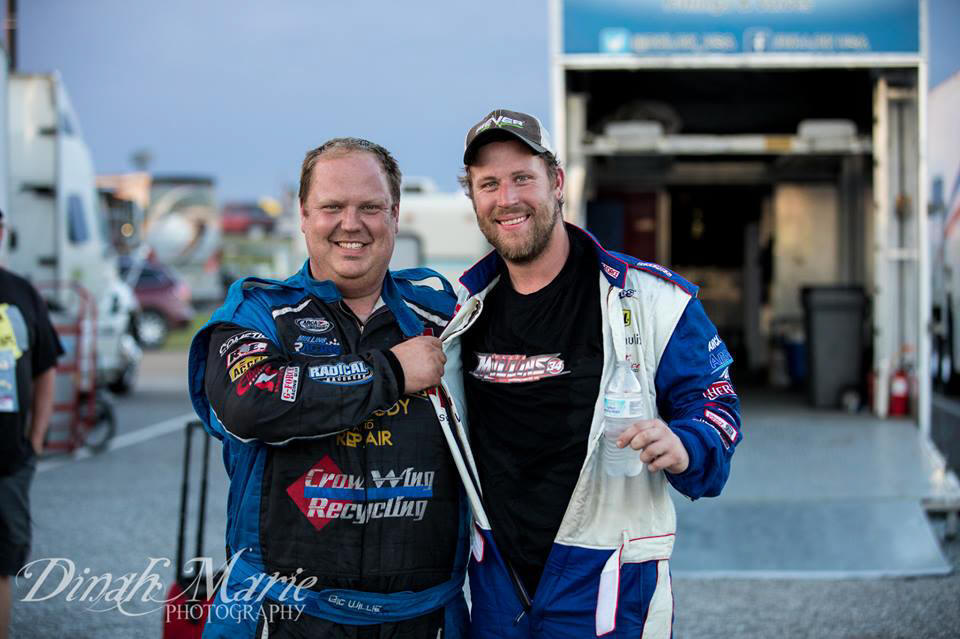 FREDRICSBURG, Va. — When Thomas Praytor and Willie Mullins teamed up as drafting partners during the General Tire 200 at Talladega (Ala) Superspeedway on May 6, it was actually just the latest collaboration between the pair of low-budget racers.
Praytor and Mullins have been helping each other since 2015 when Mullins Racing fielded a car for J.J. Pack in the season opening event at Daytona Int'l Speedway. Praytor let Mullins enter the car with Praytor's 2014 ARCA Racing Series owner points, which allowed Pack to make the race via provisional.
"Coming up to Daytona we didn't have a number with any kind of points," Mullins recalled. "Our crew chief Andy Belmont put us together with Thomas Praytor and we got their points from the previous year. Inevitably that is what got J.J. Pack into the show that first year. By using their points we were able to get that 40th-place starting position at Daytona in 2015."
Praytor, a veteran racer who has 89 ARCA starts under his belt, said the friendship with Mullins grew quickly following that weekend at Daytona in 2015.
"Ever since then we both realized we were small teams and we needed to help each other because that is how racing is these days," Praytor said. "Now we're three or four years down the road and we're still good friends."
Since then Praytor and Mullins have helped each other out many times. In fact, Praytor once let Mullins borrow a sway bar from him for more than nine months. Mullins eventually returned it, but not without a bit of harmless ribbing from Praytor.
"He came walking in the trailer at the end of last year with that sway bar and I said, 'Oh…the infamous sway bar,'" Praytor recalled between laughs. "There it was coming back in to my possession."
As a show of support, and admittedly a bit of a joke, Praytor even wore one of Mullins' T-shirts under his driving suit during the General Tire 200. Mullins admitted when he saw Praytor before the race wearing his shirt, he couldn't help but smile.
"The story behind that is it started off with my girlfriend giving his girlfriend a T-shirt just because of some friendly kidding back and forth," Mullins explained. "Well when we were getting ready to get in the cars he came up to me and said, 'Oh, by the way…' and it was just too funny.
"It actually made my day that someone would go out of their way to make me laugh and it made us feel good and appreciated a little bit. After the race I wanted to make sure I got a picture with him."
Praytor said that picture, taken by Mullins' fiancee Dinah Thompson, is much more than just two racers having a good laugh. It's a pair of friends and competitors who have each other's back.
"When I showed him that I was wearing it and saw the look on his face, I said I guess this does mean a little something," Praytor said. "All I'm sure anybody see's is me wearing a shirt that says 'Big Willie Style' on it and another racer standing next to me. Really nobody knows the meaning of that picture or what is going on, but it is kind of cool to have our own little meaning to the picture.
"Of course it turned out it was the best we'd done at Talladega in quite awhile, so I'll be sure to wear that thing next time out. I'll have to dig it out of the dirty clothes and wear it at Toledo in a couple of weeks," Praytor said with a laugh.
Both Mullins and Praytor say that its important for the small teams, like Mullins Racing and Praytor's Max Force Racing, to work together to combat the bigger teams like Venturini Motorsports and Cunningham Motorsports.
"We don't do this every weekend, so if we're missing something on pit road and we don't have time to go back, those guys are the ones that are there to help us," Mullins said. "At Daytona we needed help on pit road and we went down to the Praytor's and those guys were more than happy to help. They sent a person down to help us because we were having trouble getting the window net up. They saved our qualifying position at Daytona when that happened.
"It's important that all us little guys band together to try and make a little bit bigger of a team to put on a better show for ARCA."
Praytor echoed Mullins' thoughts, saying that people like Mullins are exactly what the phrase "racing family" represents.
"These big, fully funded teams have got every kind of resource you could possibly think of to get whatever they need," Praytor said. "I could think of several occasions where Willie has come down to me or I have gone down to Willie looking for a certain piece that I didn't have but he had or vice versa.
"It just shows how big the racing family is. Willie can walk down to me and take two or three drawers in my toolbox just because he needed it and I wouldn't think twice about it. That's just what we've got to do to make it.
"At the end of the day, it's crazy that a couple of small town guys that don't have a lot of money are getting to compete with the big guys in the ARCA Racing Series at Daytona and Talladega."
LINK to story: https://speedsport.com/stock-cars/arca-stock-cars/praytor-mullins-low-budget-competition/
Picture Dinah Thompson
Sponsor-GoodBookey Featured in Forbes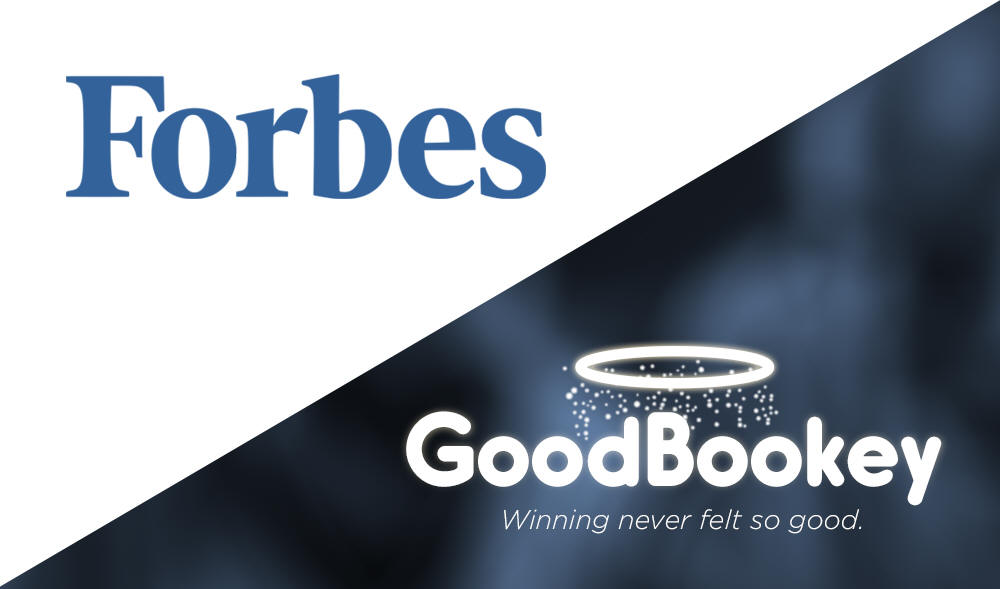 GoodBookey America's online charitable gaming site and sponsor of the Thomas "Moose" Praytor's ARCA car is featured in Forbes. Follow link below for full article:
http://www.forbes.com/sites/matthunckler/2017/01/19/like-betting-on-sports-this-app-turns-lost-bets-into-charitable-donations/#2b79519b5d52
Watch GoodBookey President Tony Pease and Operations Officer Sarah Deasy give a short presentation on GoodBookey using their involvement with racing as part of their presentation.
"Congratulations to the entire GoodBookey team on being recognized by Forbes. We had a lot of fun with GoodBookey and The Chive Charites on the car in Kentucky and Kansas," said Praytor. "They are making a difference in a fun way that everyone can be involved with. I'm taking all bets against the Patriots, download the app and put your money up!"
Lets Talk Racing!


Listen to Inside Alabama Racing live at 6:00 PM CST on Wednesday on WNSP 105.5
or click below to listen on your computer-
WNSP 105.5
This site and our team are dedicated to winning and having fun. Each week during the season we will update this site with a report of racing action from the previous week. We will also be posting pictures of the team and scenes from the track. Originally this site was designed for Tommy Praytor and his Fat Boy Racing team. Over the last few years Tommy's son Thomas has been making a mark on the racing scene and Thomas's or Thomoose's racing has been added to our site. On June 4th, 2001 the Praytor family lost their third child, Max. In 2002 we changed the name of our combined racing efforts to Max Force Racing in his memory.
This page was last updated on 08/22/17.